lawn insects:
IPM Grub Control
White grubs, also known as European Chafer and Japanese Beetles are destructive turfgrass insects that feed on the roots of your lawn causing extensive turf damage. To make matters worse; raccoons, skunks and birds aggressively rip, dig, and tear your lawn apart continuously searching for their next grub meal.
Our IPM Grub Control especially targets destructive white grub larvae and effectively eliminates them. A single application provides superior season-long control ensuring your lawn is fully protected and free from damaging grub infestations.
Nutri-Lawn IPM Grub Control Benefits
Eliminates destructive white grub larvae
Can be applied as a preventative treatment
Can be applied as a curative treatment
Only requires a single application
Safe for People, pets, children, non-target beneficial insects
Request A Quote
Fill in the form below and we'll have a customer representative contact you!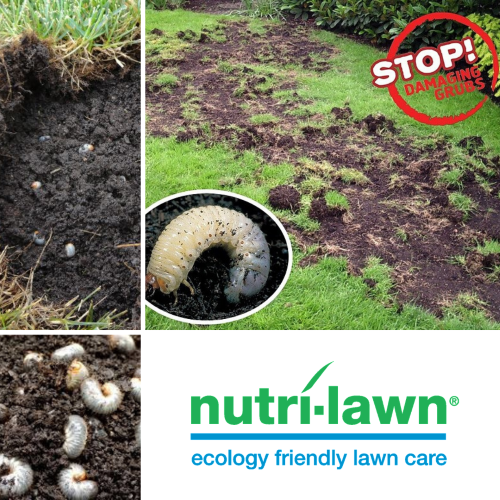 Check your lawn for damage caused by raccoons and other animals feeding on white grubs.
Spot the Telltale Signs of Grubs
Check your lawn for grub larvae. If you see more than five grubs in one square foot, you likely have an infestation.
Dead patches of grass. Oddly shaped, circular patches of dead grass in early fall or late summer likely mean grubs are feasting on your lawn.
Raccoons and other critters digging up your lawn. Birds, skunks, raccoons, and other animals may be feasting on grubs in your lawn.
Talk to your local Nutri-Lawn to learn more about insect control, as well as other ecology-friendly lawn care services catered for your area.
Take Control of Your Lawn
Postal Code or Zip Code Not Found
Please select your city from the list below
Get promotions, pricing and special offers
Find Your Local Nutri-Lawn