Other Services:
Commercial Services
COMMERCIAL SERVICES
Improve the aesthetics and curb appeal of your commercial, property or business. Our team of lawn care experts work with property managers, landscape professionals, and business owners throughout Canada everyday to deliver a wide range of lawn care, and landscape maintenance services.
Ensure your property stays beautiful all year with our full range of services including, but not limited to:
Fertilization - Exceptional season long performance custom blended with plant essential nutrients
Weed Control - Effectively eliminate unsightly broadleaf weed infestations
Core Aeration - Encourage Deep roots, relieve compaction, reduce thatch
Overseeding - Enjoy a thick lush lawn with 100% certified grass seed
White Grub Control - Prevent, Control, and Eliminate devastating White Grubs
Organic Topdressing - 100% weed free, All-natural topdressing compst, valuable essential nutrients
Power Raking - Stimulate new growth, Remove and eliminate excessive thatch buildup
Slitseeding - Renovate, Revitalize, or Repair with specialized slitseeding machine
Moss Control - Eliminate moss infestations throughout the lawn
Noxious Weed Control - Eliminate Health and Safety risks from Hazardous vegetation
Crack & Crevice Control - Keep parking lots, sidewalks, interlock, and hard surfaces weed free
Tree & Shrub Care - Deep Root Injections deliver essential nutrients to trees & shrubs
Enhanced Calcitic Lime - Neutralize acidic soil pH conditions
Irrigation Services - System Installation, Design, Service, Maintenance, Repair, and Upgrades
Landscape Maintenance - Sod Installation, Bed Maintenance, Hardscaping, Construction
Mowing Services - Weekly mowing, trimming, edging, Spring and Fall Clean-ups
Request A Quote
Fill in the form below and we'll have a customer representative contact you!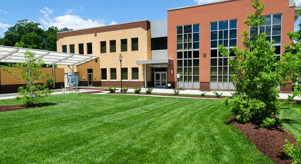 Keep your business' landscaping in peak condition with Nutri-Lawn commercial services.
Our expert staff can meet you on-site to discuss your individual needs and provide a free consultation.
Talk to your local Nutri-Lawn to learn more about our range of commercial services for residential properties or businesses, as well as other ecology-friendly lawn care services catered for your area.
We Nourish Lawns and Lives
Postal Code or Zip Code Not Found
Please select your city from the list below
Get promotions, pricing and special offers
Find Your Local Nutri-Lawn