Annapolis Valley LAWN CARE AND WEED CONTROL PROGRAMS
Providing ecology-friendly lawn care in Nova Scotia for over 30-years!
Why Nutri-Lawn? We consistently deliver professional lawn treatment services, resulting in beautiful, lush lawns that enhance your home's curb appeal.
Nutri-Lawn is more than just fertilizer and weed control. It is about caring for people and homes by providing friendly, timely and proven solutions. Our clients know they can count on our knowledge and experience to help them achieve healthy lawns of which they can be proud, using products that are safe for family, pets, neighbours, and the environment.
Annapolis Valley Lawn Care Programs
Our customer nourishment experience is anchored in a successful partnership and relationship with you. Create a strong healthy lawn by following our mowing and watering instructions, and by including a full array of beneficial services to your package. Use our convenient agronomic calendar to follow when our services are preformed.

IDEAL FOR
The environmentally-conscious homeowner
$55.00
Starting price per visit
4 Treatments Total
Controlled Release Fertilizer Technology
Season Long Fertilizer Applications
Weed Control Not Included
*Upgrade to Hybrid Program*
Kelp Seaweed Extract
Enhances Nutrient Availability, Strengthens Roots, & Aids in Recovery
OUR MOST POPULAR PROGRAM

IDEAL FOR
Lawns with lots of weeds
$55.00
Starting Price Per Visit
8 Treatments Total
Controlled Release Fertilizer Technology
Season Long Fertilizer Applications
Fiesta Weed Control
Season Long (4) Broadleaf Weed Control Applications
Kelp Seaweed Extract
Enhances Nutrient Availability, Strengthens Roots, & Aids in Recovery
Our Most Popular Lawn Care Services

Fertilizer Services
Make sure your lawn stays thick and healthy all season long. Our premium custom-blend fertilizer is evenly applied and seasonally adjusted for lush, green grass.

Weed Control
Eliminate weed infestations without harming your lawn. Our selective broadleaf weed control is specially designed to effectively control those wicked weeds.

Insect Control
Prevent destructive insects from feeding on your grass. Our insect control products eliminate insects and protect your lawn from extensive damage.

Lawn Services
Improve the overall health of your lawn with our wide selection of lawn services. Sort out your soil with core aeration or promote new growth with overseeding – your lawn will love you for it.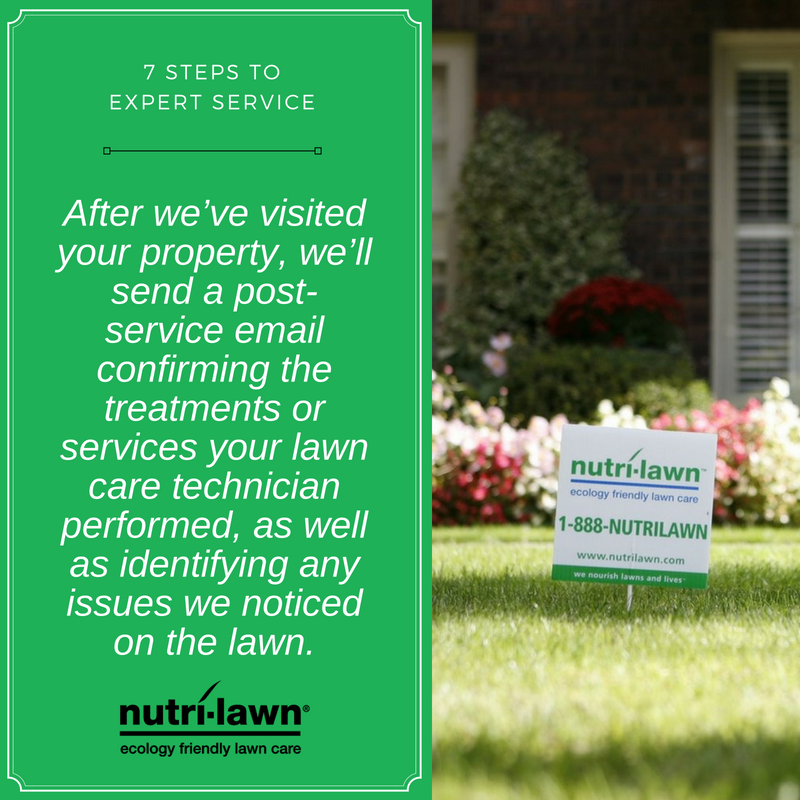 You can count on Nutri-Lawn Nova Scotia to provide complete professional lawn care; from preparation and maintenance, to fertilization and pest control. We have the expertise to create a healthy, stunning lawn that adds value to your home and begs you to come outside and enjoy it.
Proudly servicing the communities of Ardoise, Aylesford, Berwick, Cambridge, Centreville, Coldbrook, Ellershouse, Falmouth, Garland's Crossing, Greenwich, Greenwood, Hantsport, Kentville, Kingston, Lakelands, Meadowvale, Middleton, Mount Denson, Mount Uniacke, New Minas, Newport Corner, Newport Station, Port Williams, St. Croix, Three Mile Plains, Windsor, Windsor Forks, Wolfville.
As the COVID-19 pandemic evolves each day, we are evolving too. Read more about our contactless service delivery approach. Nutri-Lawn is committed to the leadership of providing a safe and healthy work environment for all employees and customers.
What Our Customers are Saying
Thank you for all the 5 STAR ratings and reviews. We're here because of you!
"My lawn is wonderful!! It is lush and green, and I like that the products you use are environmentally friendly. The technician, Zach, is knowledgeable and professional. Thanks for another season."
Janet Moore
"I like the regularity of your visits. I like the feedback that we get on practically every invoice with suggestions for lawn care. I like the friendliness of the staff (particularly Zach who seems to our regular provider) and his willingness to talk with me about lawn care when I am around. The reminders of up-coming service are also useful."
Kit & Patricia Rigg
"I am very pleased with the company's communications program. Advance notices have helped me to get my yard ready for the various applications, maximizing the service. The technician that visits is very knowledgeable and courteous. I am very pleased with this valued service."
Bill Laird
Meet Our Annapolis Valley Team
Schedule your free estimate and start your service with trusted, courteous experts.
Steve Smith
General Manager
Address:
101-101 Thornhill Drive
Dartmouth, NS B3B 1S2
Halifax: (902) 468-8101
Kentville: (902) 681-2654
Bridgewater: (902) 527-0007
Truro: (902) 893-2099