In 1985, Winnipeg Entrepreneur Dick Nelles understood two things - farming and the agricultural business. Dick was introduced to a small lawn care business, and a relatively new service concept, called Nutri-Lawn.
Even though the company had little equipment, and even less history, the concept of bringing his agricultural knowledge, and his entrepreneurial spirit to the lawn care industry was very exciting. Nutri-Lawn was going to be different. And under Dick's direction, the spot treatment of weeds, the reduction of chemicals, and a more ecology friendly way of caring for lawns than blanket spraying was born. 25 years before 'green' became a fashionable phrase, Nutri-Lawn began to build a national brand.
With the "two hose" injection system, Dick felt he could leverage this eco-difference and create a category, a little differently. Marketing through printed brochures, home shows and word of mouth, they started by giving free estimates, and the business expanded quickly in 1987 into Vancouver and Calgary with two company stores. Then Dick met Gary Redfern at a Winnipeg gas station one day; Gary saw the trucks and loved the concept. He wanted to open the first Nutri-Lawn franchise. Nutri-Lawn was set to expand, and Edmonton was opened by Gary Redfern as the first franchise operation, which he subsequently grew to great success.
The agriculturalist in Dick inspired him to hire agronomists who would continue to develop new products and support the business requirements of ecology friendly lawn care, whilst also writing the very strong procedural and operational manuals which would be required to create a consistent and long-standing brand. Dick even personally designed the uniforms. With early and proven success established, 1989 through 1992 saw the real ramping up of Nutri-Lawn and franchise partners joined the brand from across Canada, some of whom still operate in their home towns, representing the values and traditions of these early days.
When Dick sold Nutri-Lawn in 1993, the fundamentals of innovation in product, authenticity of service, and the passion for doing the right thing for lawns and the homeowners who cherish them, had been cemented into a brand that has been recognized as a category leader, and a household name, ever since.
Talk to your local Nutri-Lawn to learn about their story!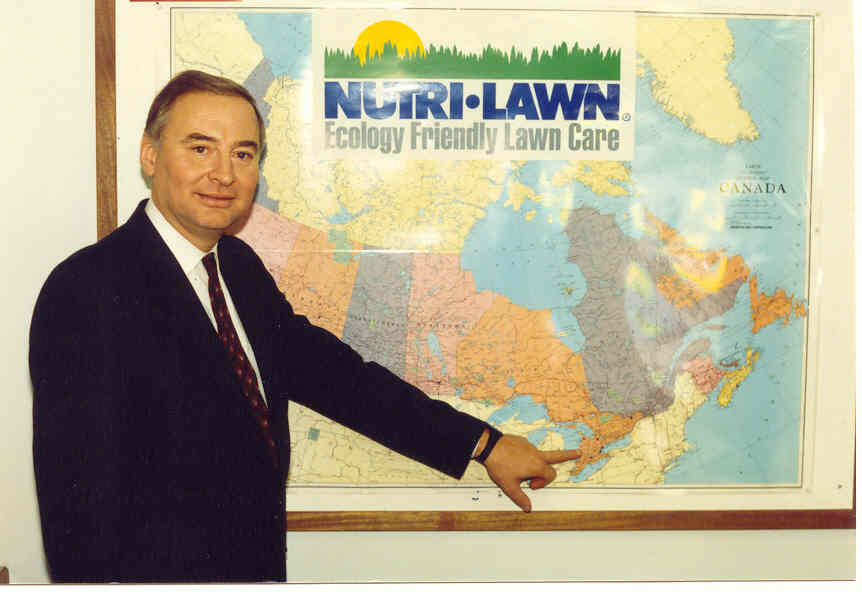 We nourish lawns and lives
Our customers mean everything to us. If it's not right the first time, we'll come back and fix right away.
Postal Code or Zip Code Not Found
Please select your city from the list below
Get promotions, pricing and special offers
Find Your Local Nutri-Lawn