Fertilizer Services:
Slow Release Nutrients
Slow Release Nutrients
One of the single most important things you can do for your lawn is to provide it with the plant essential nutrients it needs to grow healthy and stay healthy, all season long.
Balanced fertility throughout the year will keep your lawn looking green, thick, and healthy.
At Nutri-Lawn, we use a combination of slow and quick release fertilizer technologies that are formulated for each application, delivering essential nutrients approximately every 4 to 6 weeks, depending on the time of year.
Our traditional fertilizer programs are specially designed to produce optimal season-long performance using our premium granular fertilizer. A customized blend of Nitrogen, Phosphorus, and Potassium (NPK) are evenly applied and seasonally adjusted to meet your lawn's unique requirements.
Request A Quote
Fill in the form below and we'll have a customer representative contact you!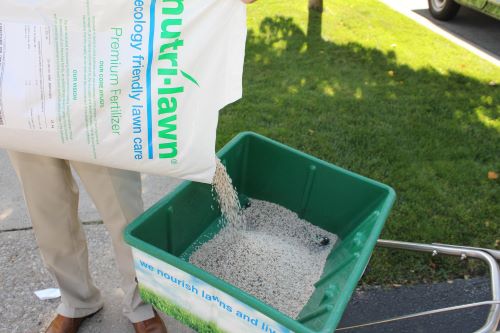 Nutri-Lawn uses its own premium blend fertilizer.
Nourish your lawn with Nutri-Lawn. Our lawn care technicians will provide advice on how to get your grass looking lush, including recommended cultural practices that will help you enjoy your landscape again, and improve your curb appeal.
Talk to your local Nutri-Lawn to learn more about our Traditional Fertilizer, as well as other ecology friendly lawn care services catered for your area.
Lawn Fertilizer in Action