Other Services:
Irrigation Services
Simplify your life with a no fuss in-ground sprinkler system. Take care of your landscape's water requirements automatically, and give yourself more time to sit back, relax and enjoy your home at the end of the day.

Your irrigation system will be designed and programmed with water conservation in mind. Each zone is designed and programmed to deliver the correct watering requirements according to plant type, and is based on agronomic principles to keep plants healthy. Your irrigation system will be programmed to operate in the early morning hours, while you sleep, when there is less chance of water loss to wind and evaporation.

Save money with a sprinkler system, and reduce your water utility bills with a wireless Rain Sensor, included with each installation. The Rain Sensor will automatically suspend operation of the system when natural rains have taken care of the watering for you.

With your watering under control, you'l improve your curb appeal and add value to your home with a lush, healthy landscape of trees, shrubs and vibrant, flowering plants. Accenting a rich carpet of healthy lawn is a standout in any neighbourhood, and a Nutri-Lawn custom designed in-ground irrigation system can help you achieve that.

Installing an automatic sprinkler system is a complicated job for even the most adventurous do-it-yourselfer. Digging, tunnelling, and chosing the right materials is hard enough. Making it all work without wasting water or damaging your property can be a nightmare.
Fill in the form below and we'll have a customer representative contact you!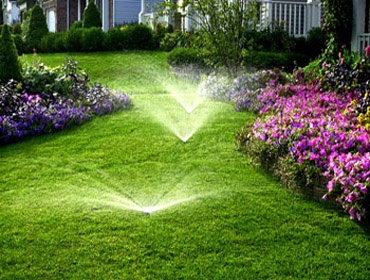 Save time and money with an automatic sprinkler system
Nutri-Lawn's experienced professionals will do the job right. We will design a system that provides the right coverage for your property and make sure it works. Standard installation includes leak detection, timer tune-up, winterization, cleaning, rain-sensor adjustment, and a digital controller; all the features of a high performance, efficient sprinkler system.
Our full-service irrigation team can provide a detailed estimate for repairs and adjustments, or upgrades to your existing system. We handle all major professional brands of equipment. Many older systems benefit from upgrades using newer technology components and adjusting to other changes in your landscape.
Talk to your local Nutri-Lawn to find out if irrigation services are available in your area.
Keep Lawns Healthy During Drought
Postal Code or Zip Code Not Found
Please select your city from the list below
Get promotions, pricing and special offers
Find Your Local Nutri-Lawn