What Nutri-Lawn Customers Say
We love feedback. These valued testimonials show how important our dedication is to natural, safe, and dependable lawn care.
"Your Fiesta weed control was very effective in getting rid of our weeds. We are very happy with the condition of the lawn now."
Jane T
"We just wanted to compliment the work your technicians did on our lawn. The new sod that was installed looks great and the irrigation system you guys put in makes it so easy for us now."
Jim C
"The lawn looks great again this season. Please let your technicians know how much we appreciate their hard work to make it look as good as it does."
Tara J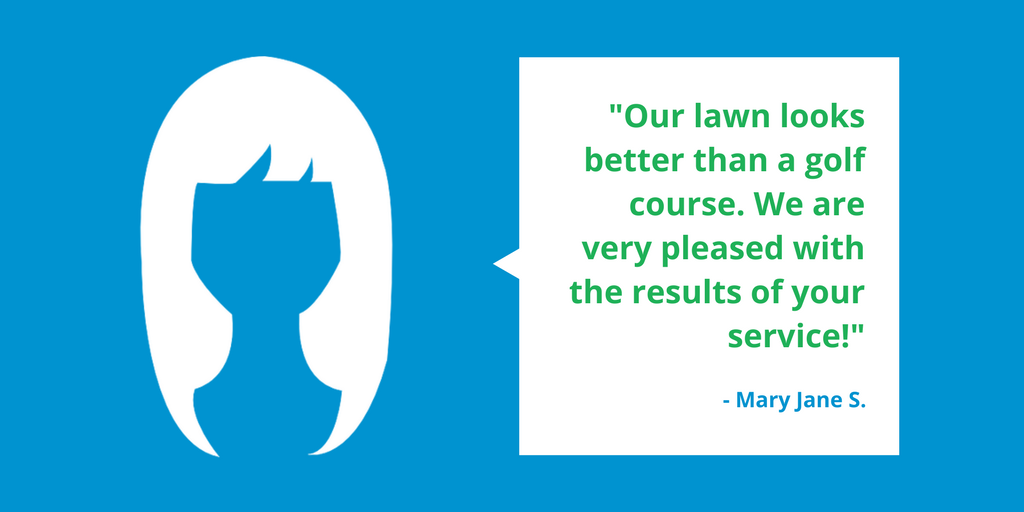 "Thank you for another season of excellent ecologically sustainable lawn care. It's good to know that the products you use don't harm the animals that frequent our yard: birds, squirrels, bees, cats, racoons (!), mice, and people (large and small). And, even just as, if not more importantly, we are not sending toxic pesticide into the ecosystem and water run off that eventually reaches our water supply in the great lakes."
Mark E.
"Sometimes in life you luck out and this has happened to me with you. I am so thankful that you are there. I so appreciate you caring. I do want a lovely lawn, I am such a visual person that it matters to me more than most people. In my work I dealt with styling a lot and we even used my back yard to take the shots for the cover of the magazine many times. So your caring could not be more appreciated!"
Monda
"Please let all the office staff know how nice it is to talk with friendly professional people each time I call. They are always very helpful and easy to deal with."
Rick J.
"I just wanted to compliment the technicians that did such a great job on my newly sodded lawn...its looks fantastic!"
Mark M.
"Thank you for helping me get rid of my weeds. Your Fiesta weed control did a great job and I am so glad it is a safe natural product."
Sarah R.
"Wow! The seeding job you did for me looks amazing. I never thought the lawn could look this good."
Michael S.
"Thanks again for making my lawn look the best on my street. You guys do a great job."
John W.
"The Topdressing you guys put down on my lawn has worked wonders. I have never seen our lawn look so good. The gentleman who did the work was very professional and personable."
Jennifer B.
"Thanks for making it out to my property so quick. Our lawn was covered in dandelions and your Fiesta weed control worked so well to clean them up."
Nick D.
"The core aeration and overseeding has really made a big difference in thickening up the lawn. The bare spots are all filled in now. Thanks."
Tim S.
"We cancelled services with our other lawn company and went with you. You actually do what you say you are going to do and the lawn has never looked as good as it does now."
Peter G.
"Thanks for another year of excellent!"
Bernice B.
"Blaise, Nathan, Pablo did a great job. Efficient and pleasant to work with. Blaise was particularly conscientious of completing a job well done."
Jo Z.
"I have been a longstanding Nutri-lawn customer. I wanted to thank you for your excellent service over the years."
Terry G.
Postal Code or Zip Code Not Found
Please select your city from the list below
Get promotions, pricing and special offers
Find Your Local Nutri-Lawn