Lawn Services:
Lawn Renovation
Depending on the starting condition of your lawn, where you want it to be, and your budget, lawn renovations can be done in a number of ways.

Although seeding is a great way to rejuvenate your lawn, sometimes a lawn isn't easily salvageable due to issues such as poor topsoil, an excessive thatch layer, or heavy infestations of undesirable grasses, weeds or disease. In many parts of Canada, the use of effective weed control products have been banned, making the selective removal of undesirable weeds extremely difficult. In these situations, the best approach is often a major renovation involving the physical removal of old sod, followed by trucking in new soil or compost, and then seeding, fertilizing and topdressing. The old sod is placed in a commercial disposal bin and sent to a composting facility.
READ > 5 Things To Consider When Seeding A Lawn

Resodding can be an expensive renovation, but results in the creation of a beautiful healthy, weed-free lawn consisting of a mixture of premium certified grasses, without the use of synthetic pesticides.

If you think your lawn needs a major renovation, call your local Nutri-Lawn for an estimate.
Fill in the form below and we'll have a customer representative contact you!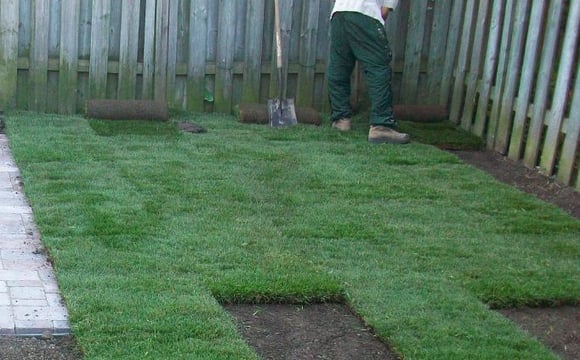 Ask about new sodding or renovating your existing lawn.
For lawns that are thin and weak with minor weed infestations or disease, a lawn rejuvenation is recommended. A Core Aeration is performed to break up any thatch layer, reduce soil compaction and open up the soil to improve seed-to-soil contact. Seed and starter fertilizers are applied, followed by a Power Raking service, which smashes the soil cores and further enhances the seed-to-soil contact, resulting in improved grass seed establishment. This is followed up with Topdressing, which acts like a mulch and provides a slow feeding of nutrients to the newly germinated seeds.

Where allowed, pest controls are used to selectively control problem weeds or insect prior to beginning the rejuvenation. In coastal regions, additional work is often required to control or remove the moss, as well as applications of Calcitic Lime to balance the soil pH.

Talk to your local Nutri-Lawn to learn more about Lawn Renovation and Rejuvenation services, as well as other ecology friendly lawn care services catered for your area.
We Nourish Lawns And Lives
Postal Code or Zip Code Not Found
Please select your city from the list below
Get promotions, pricing and special offers
Find Your Local Nutri-Lawn