The Beginning of Nutri-Lawn and Ecology-Friendly Lawn Care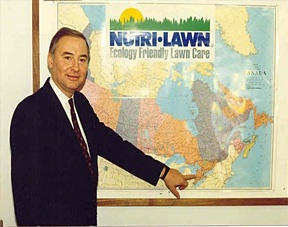 Dick Nelles understood farming and agricultural business. It was 1985 and in Winnipeg, Dick, through a friend, was introduced to a small lawn-care business, which he bought, called Nutrilawn.
It interested him even though the company had little equipment, but what excited his imagination, and his entrepreneurial spirit, was the idea of bringing to lawn-care some of truths that were ingrained in him from farming. The greatest of those was that spot treatment of weeds was a healthier and more ecology friendly way of doing things than blanket spraying. And so twenty five years before 'green' became a bi-word for lawn-care, Nutrilawn began to build its business on that idea.
With the "two hose" system Dick felt he could leverage this difference, and, through franchising, attract like-minded entrepreneurs interested in doing business, and creating a category, a little differently. Marketing through brochures, and giving free estimates, the business expanded into Vancouver and Calgary in 1987 with company stores, and then Dick met Gary Redfern (at a gas station one day) who wanted to run a Nutrilawn franchise in Edmonton, which he subsequently opened and grew to great success.
The agriculturalist in Dick inspired him to hire agronomists who would continue to develop new products that would meet the requirements of ecology friendly lawn care, whilst also writing the very strong procedural and operational manuals which would be required to create a consistent and long-standing brand. Dick even designed the uniforms.
With early and proven success established, 1989 and 1990 saw the real ramping up of Nutrilawn and franchise partners joined the company, some of whom represent the values and traditions of these early days still today. When Dick sold Nutrilawn in 1993 the fundamentals of innovation in product, authenticity in service, and the passion for doing the right thing for lawns and the homeowners who love and cherish them, had been cemented into a brand that has been recognized as a leader ever since.
---
The Nutri-Lawn Promise
Nutri-Lawn will nourish your lawn because we have always been committed to leadership and innovation in ecology friendly lawn care. Our network of local management and franchise owned operations deliver our Customer Nourishment Experience which is anchored both to the evaluation of your lawn and the sustainable value that thrives in a successful partnership and relationship with you. For we know that what you say about us will always be more important than what we say about ourselves.
Our Core Purpose
We Nourish Lawns and Lives
Our Vision
We are dedicated to becoming North America's leading lawn care company through the passion of our franchise family, an extra ordinary level of service to our customers, and an unending commitment to the best brand, products and practices in the marketplace.
Our Core Beliefs
We believe in being trusted partners with our customers in the provision of lawn nourishment. We believe in our heritage of, and ongoing commitment to, the innovation and delivery of ecology friendly products and practices We believe that the quality of our work and the commitment of our people make a difference.